Samsung has found a great solution to maintaining the desired work-life balance. At least, that is exactly what its new product suggests. Samsung's new 'Balance Mouse' is all you need for a balance between your work and your life. So, what's the hype all about, and how does the Samsung Balance Mouse work?
The Samsung Balance Mouse
At this instant, Samsung clearly does not want people to work a lot. The South Korean smartphone giant has innovated a new computer mouse that is unlike the typical mouse. This is because it is exclusively designed to stop people from overworking. Debuted as the Samsung Balance Mouse, it runs away from the desk the moment you start working a lot. To add to our imagination, Samsung's mouse not only works like a 'real mouse' but also looks like one. However, it is unavailable in the market yet as currently, as the mouse is still a concept. The company created it in collaboration with an ad agency.
The Samsung Balance Mouse was first spotted in a video posted on Samsung's Korean YouTube channel. If you are wondering the motive behind ideating this mouse, it is simple and plain. The main motto behind the mouse is to improve the work-life balance in Korea. In its video, Samsung stated that a majority of office workers are hesitant to get off work on time. In fact, people are always under extreme pressure to finish their pending work before calling it off. Moreover, they are loaded with extra work at frequent times.
Can Samsung actually solve the issue of overworking?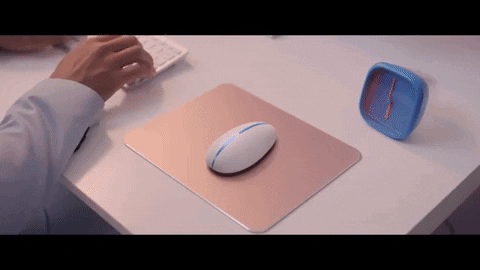 Samsung further stated in its video that its Balance Mouse will solve this very problem of overworking. According to the company, it is not a typical mouse. In fact, it has the ability to stop people from overworking. It added: "When working overtime, this innovative product reveals its genuine features. It detects hand movements, and when the chance comes, the wheels come out of the house and run away."
In addition to the above, the video mentions that if you think you can simply grab the mouse when it tries to escape, you are wrong! This is because the Samsung Balance Mouse moves swiftly. Thus, even if you do manage to get hold of it, its core part ejects. To conclude, Samsung indeed wants people to relive their lives beyond their office spaces and after work with its (conceptualized) Balance Mouse.
Read Also : Along with iPhone 14 Models, what products did Apple launch? Check out their specs and prices!
Anwesha has been a creative writer for a while. Currently, on her pursuit of tech writing, she is diving into the realms of technology to produce better content on the forever-changing world of technology. In her free time, you'll find her humming tunes of her favourite shows or reading a book.