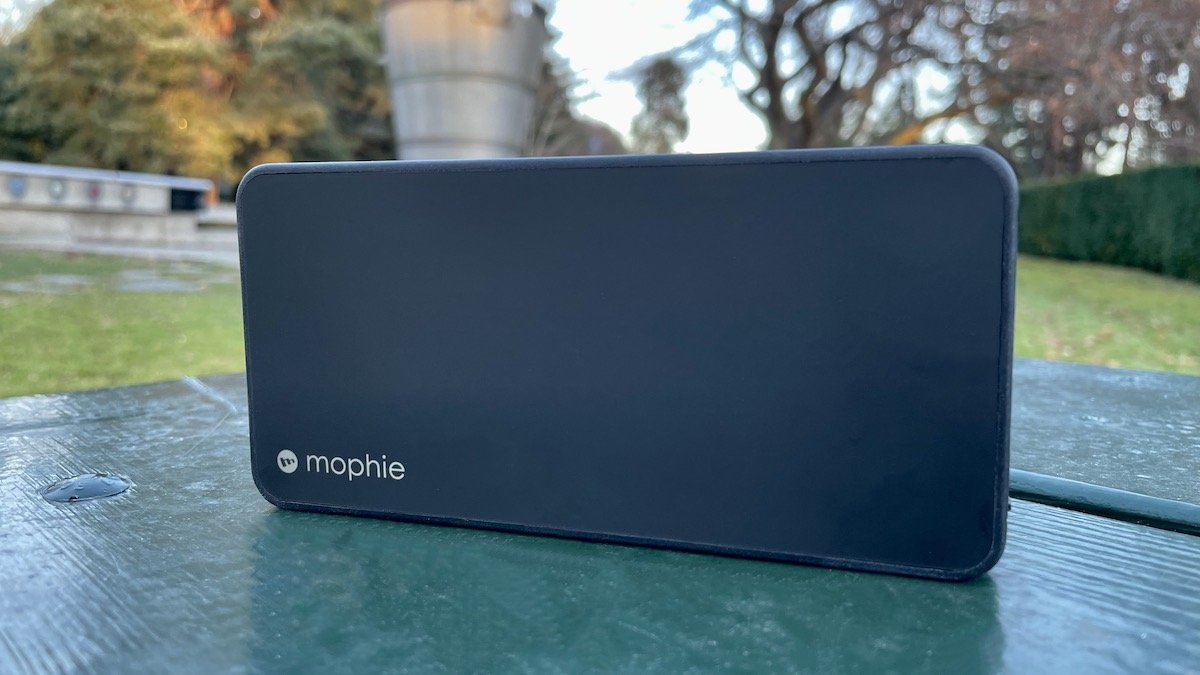 AppleInsider may earn an affiliate commission on purchases made through links on our site.

Mophie's Powerstation Plus is an all-in-one package that will give sufficient portable power to most — with a bonus or penalty of built-in cables for both Lightning and USB-C, depending on how you use it.
A few years back, when many users really became heavily dependent on their smartphones, we all dutifully went out and bought the first generation of battery packs, extra wall plugs, and spare cables — either Lightning or micro-USB to USB-A.
Fast-forward a few years, and — to their credit — Android phones makers almost universally switched over to the faster and more versatile USB-C. Apple's iPhones remained with Lightning because, well, because of Apple, and it did the job just fine.
Fine, except for data-transfer speeds. Most users didn't really notice that, though.
With this more powerful and versatile USB-C port comes the need for higher wattage. From the iPhone 12 onwards, iPhones can use a 20-watt charger to "fast-charge" more quickly than older models. Likewise, recent iPads can also take advantage of 20W chargers, making them a new standard across platforms and devices.
Power, portable
Consequently, if you still have any of the old 5V/2.1amp battery packs, it is likely time to retire them. In addition to being inadequate — or just plain unable — to charge most current devices, the batteries within them are probably degraded from years of use.
Among the brands that have established themselves with good reputation for quality smartphone and tablet accessories is Mophie. We've owned a number of Mophie products over the years, and they are always well-made and provide good value for the cost.
The Mophie Powerstation Plus we're reviewing here is a refreshed version of their 10,000mAh battery pack in the standard oblong black shape. The 2022 edition offers several new features that make it a handy companion if you find yourself in need of a power refill for your portable devices.
The biggest new feature is the integrated, non-removable USB-C and Lightning fast-charge connectors, one on either side. If a single device is connected, it gets 20W of output — enough to provide an iPhone with a 50 percent charge in just 30 minutes.
Non-removable cables can be a problem if they break, but the unit also sports a third connector: a USB-C port that is used for either input or output. While the integrated cables are stiff and unlikely to fail in the hands of adults, that female port means the battery won't become useless if they do.
That said, if Mophie had thought to design the battery in such a way as to include an integrated Qi charging pad, it would have been even more useful to even more device models.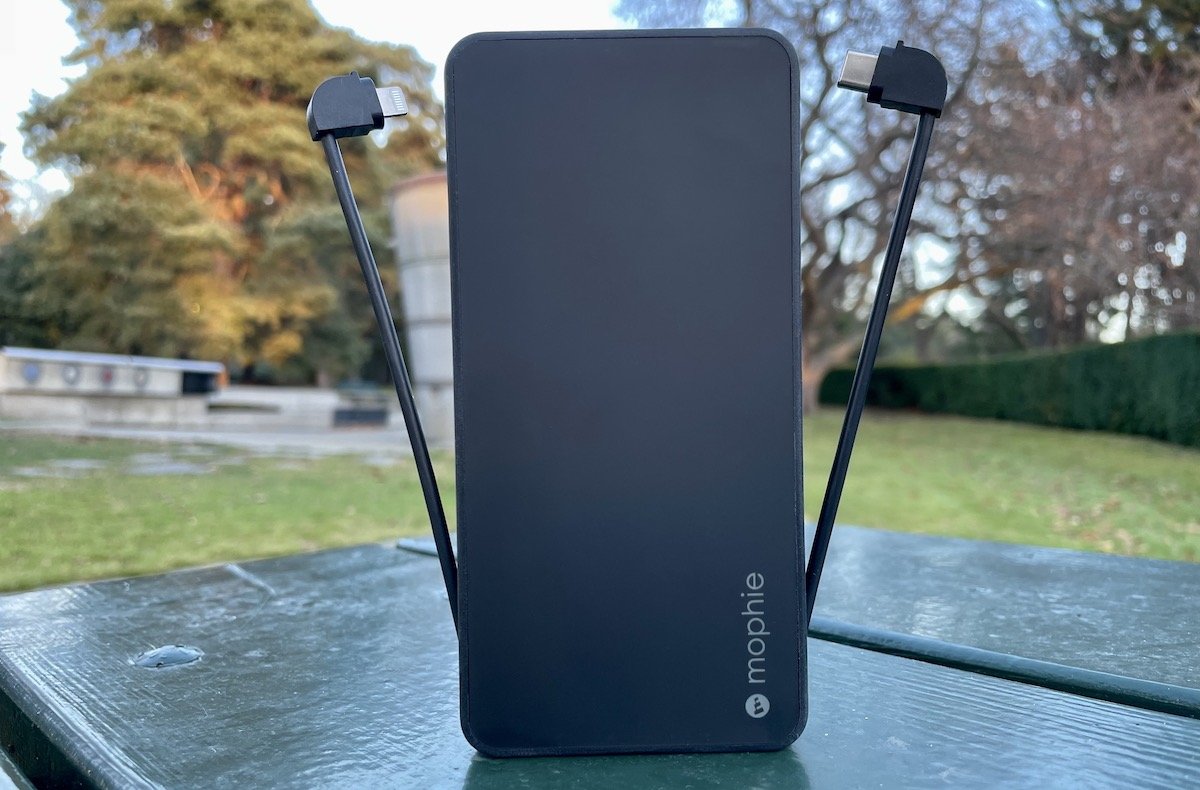 Because of that second USB-C output port, up to three devices could be charged simultaneously, albeit much more slowly. This is because multiple devices will have to share the maximum 27W output.
That open USB-C port is also the way you can recharge the battery itself, and next to that port is the status indicator of how much capacity is left. Larger, bulkier batteries can provide for more charges before needing to be recharged themselves, but 10,000mAh is sufficient for two full charges of the iPhone Pro Max, and around three full recharges on smaller or older iPhones.
Better versatility
Because of the higher output wattage, the Powerstation Plus is also great for quickly recharging other devices — including all modern Android phones, as well as iPads and other tablets. Of course, it also works with other Apple Lightning or USB-C based accessories, like AirPods Pro, Apple Watch, and third-party accessories that use USB-C.
Naturally, the iPads have much larger-capacity batteries than smartphones, but the Powerstation Plus is still good for at least one full charge for every model of iPad, with only the largest iPad Pro having slightly more total capacity than the Powerstation Plus' included 10,000mAh battery.
Other iPad models should be able to recharge at least one full charge, with enough left for somewhere between 40 and 90 percent of another charge. Carrying one device that has enough juice to recharge both iPads and iPhones to full or nearly-full should prove very convenient to travelers, hikers, campers, and anyone who finds themselves away from convenient power outlets.
Because the Powerstation Plus itself recharges its own battery through USB-C, when users need to refresh it, they are unlikely to find themselves waiting too long to do so. This size battery is the standard for modern mobile devices, able to provide multiple recharges but not being too big or too heavy.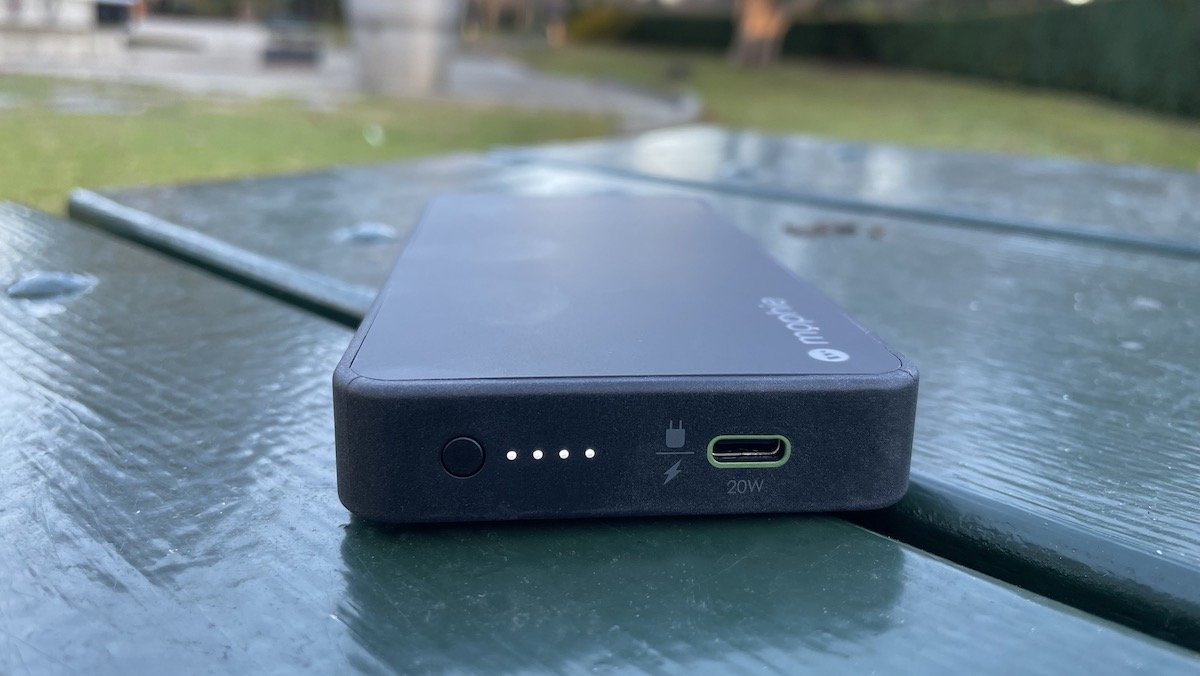 The middleweight champ
If you find yourself always looking for a wall outlet everywhere you go because your use of your phone or tablet often brings it to a low battery warning before your day is done, you might want to find a home in your backpack or briefcase for the eight-ounce/225gram Powerstation Plus. If you don't need it, a friend or stranger will someday be grateful you had it handy.
Its ability to handle both types of devices — simultaneously if need be — and its inability to lose the cables you need when you need them makes it a very versatile tool. At $79.95 retail, it will pay you back in convenience and utility.
If you travel light and only occasionally have need of a battery pack, Mophie and other companies offer battery packs that are lighter and flatter, aimed at phones only, and good for about one full recharge in most cases. The Powerstation Plus is for users who know they may be a while before getting back to a wall outlet.
Mophie Powerstation Plus pros
Integrated cables can be a plus, if used with care

Works with nearly all smartphones and tablets

Grippy surface material

Charges up to three devices

Fast charging on compatible devices
Mophie Powerstation Plus cons
Integrated cables can't be removed

No MagSafe or wireless charging surface

Oblong shape is pocket-unfriendly
Where to buy the Mophie Powerstation Plus