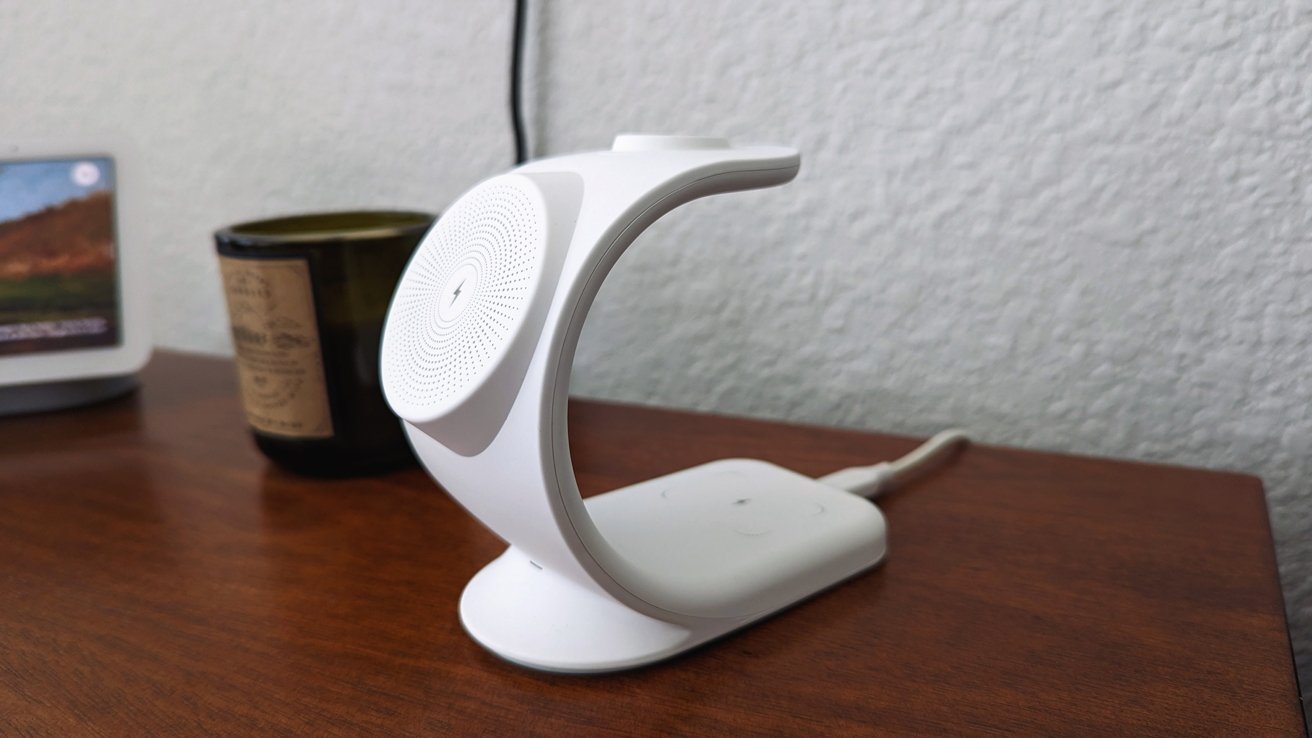 AppleInsider may earn an affiliate commission on purchases made through links on our site.

The Coomooy 3-in-1 magnet wireless charging stand powers an iPhone, Apple Watch, and AirPods, all while managing to maintain a sleek appearance.
Chargers that you can put on your desk and power all of your devices wirelessly can get expensive. We've seen some that sell for as much as a set of AirPods Pro, and we're not sure how much sense that makes.
This Coomooy charging stand isn't unique in being able to charge three devices at once. But, it does stand out from a crowded market with a small footprint and reasonable price point, under $50.
MagSafe Charging
Apple doesn't want you to call it MagSafe charging, but the Coomooy 3-in-1 wireless charging stand does use a strong magnet to attach iPhones 12, 13, and 14 vertically. The wireless Qi charger embedded in the device will power other devices like the Google Pixel 7, but the floating design won't hold phones beyond those series of iPhones.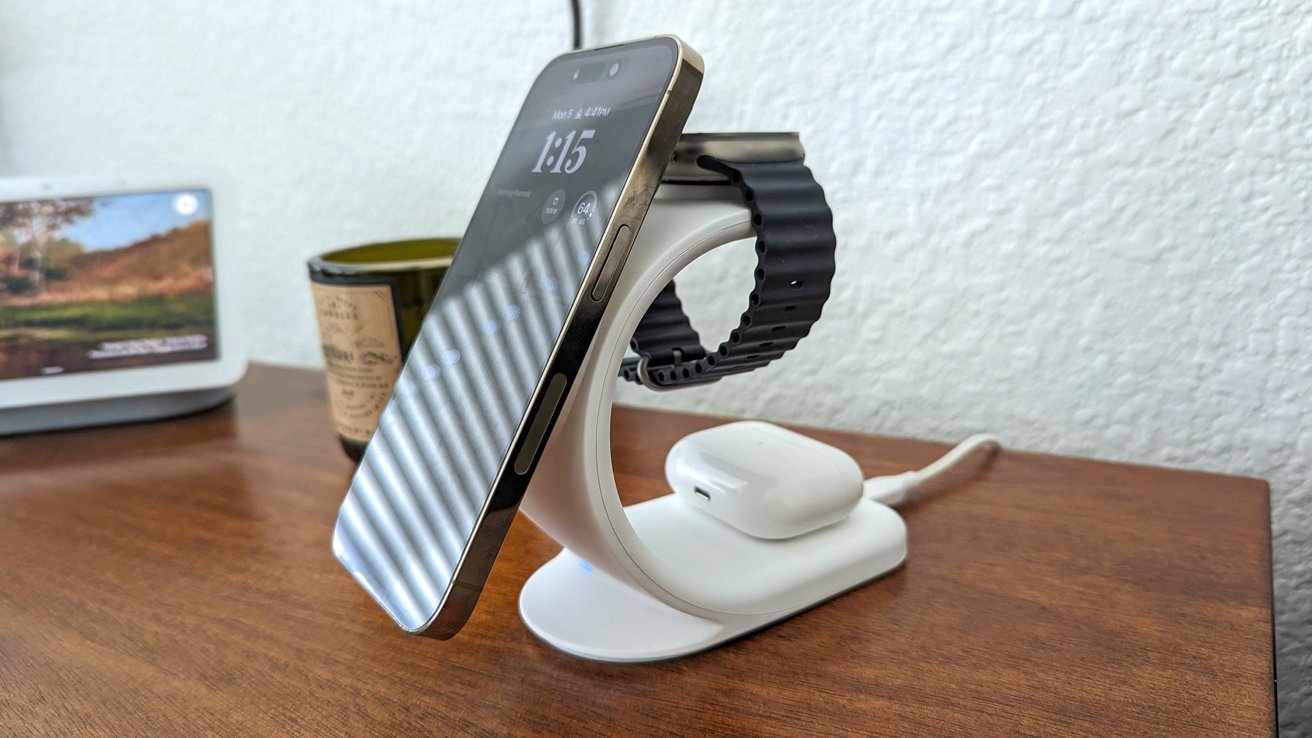 This latest desktop charger from Coomooy uses USB-C as the connection type. On the box and in the instruction booklet the company claims the charger will power an iPhone at a speed of up to 15W. When only our iPhone 14 Pro was attached to the charger we saw peak speeds around 10W.
When adding on AirPods 3 and an Apple Watch Ultra we saw that number jump to around 13W. That's not fabulous, but overall performance should still be more than adequate for overnight usage.
A bedside charger
Charging speeds aside, one of the real advantages of this Coomooy charging stand might be its compact design. It has a small footprint on a nightstand or desk.
Being able to charge three Apple devices without taking up a lot of space isn't an easy thing to do.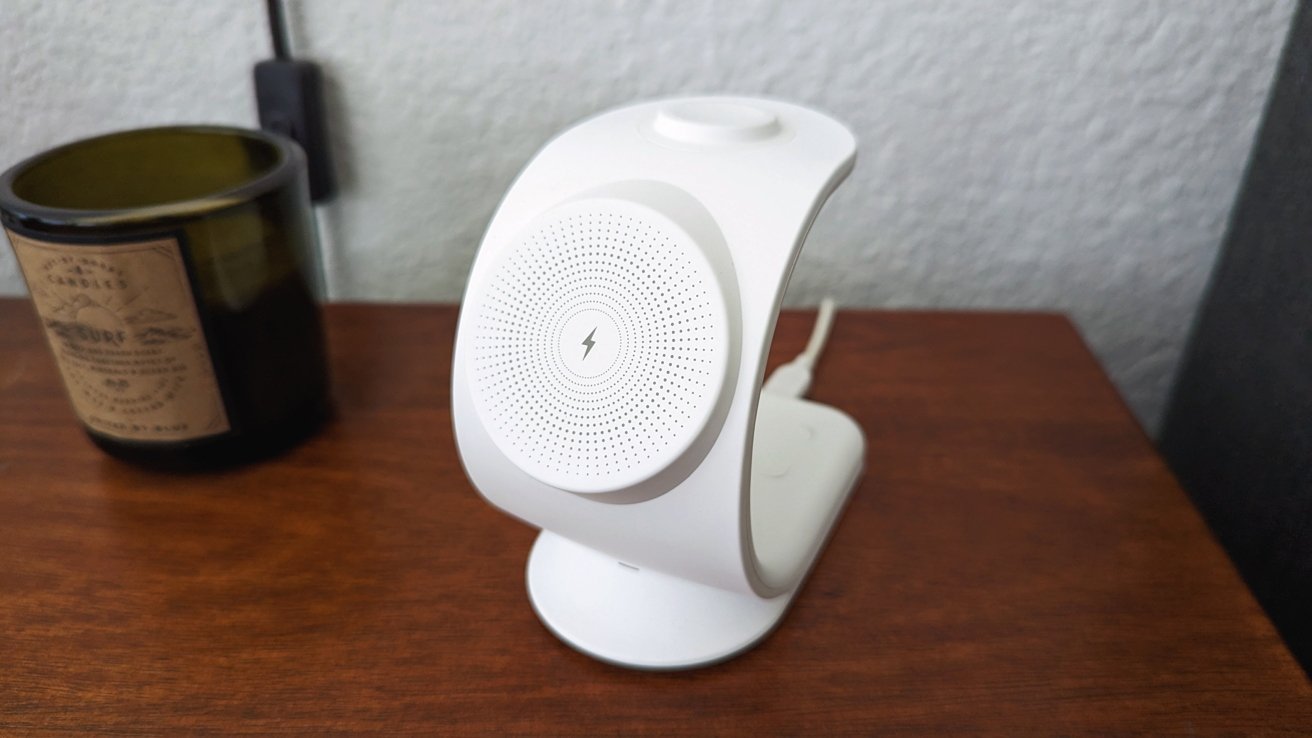 There are plenty of nitpicky items to critize about the wireless charging stand, however. We weren't crazy about the lightweight design. When we tried to grab our iPhone from it, the task usually needed two hands. Grabbing the phone and lifting it would result in the stand lifting off the desk as an example.
If you like using nightstand mode on the Apple Watch that feature is mostly eliminated with the watch laying flat to charge. That's a personal preference, but we do like being able to see the time during the night.
The stand's charging coils are particular and wants to place devices in a specific way. If laying an Apple Watch on top with the band hanging down works for you then you should be pleased.
Set it, and forget it
The Coomooy 3-in-1 wireless charging stand has an attractive appearance, and functions as expected. Still, its lightweight frame could use some heft to keep it better anchored.
We're fairly certain that support for it falls under the "return it where you got it" category, rather than anything organized, or timely. But, it does what it says it'll do on the packaging.
It's simply a budget charger and falls closer to commodity than desired gadget. You get what you pay for.
Coomooy 3-in-1 magnet wireless charging stand pros
Small tabletop footprint

Fits an iPhone with or without a case

Visually interesting design
Coomooy 3-in-1 magnet wireless charging stand cons
Did not achieve top charging speeds in our tests

Lightweight design means it can shift around easily
Rating: 3 out of 5
There are plenty of 3-in-1 charging stands for an iPhone, Apple Watch, and AirPods. Some of them can get quite expensive, however. This one being under $50 does make it a compelling choice to save some money.
This charger is available for purchase directly from Coomooy.