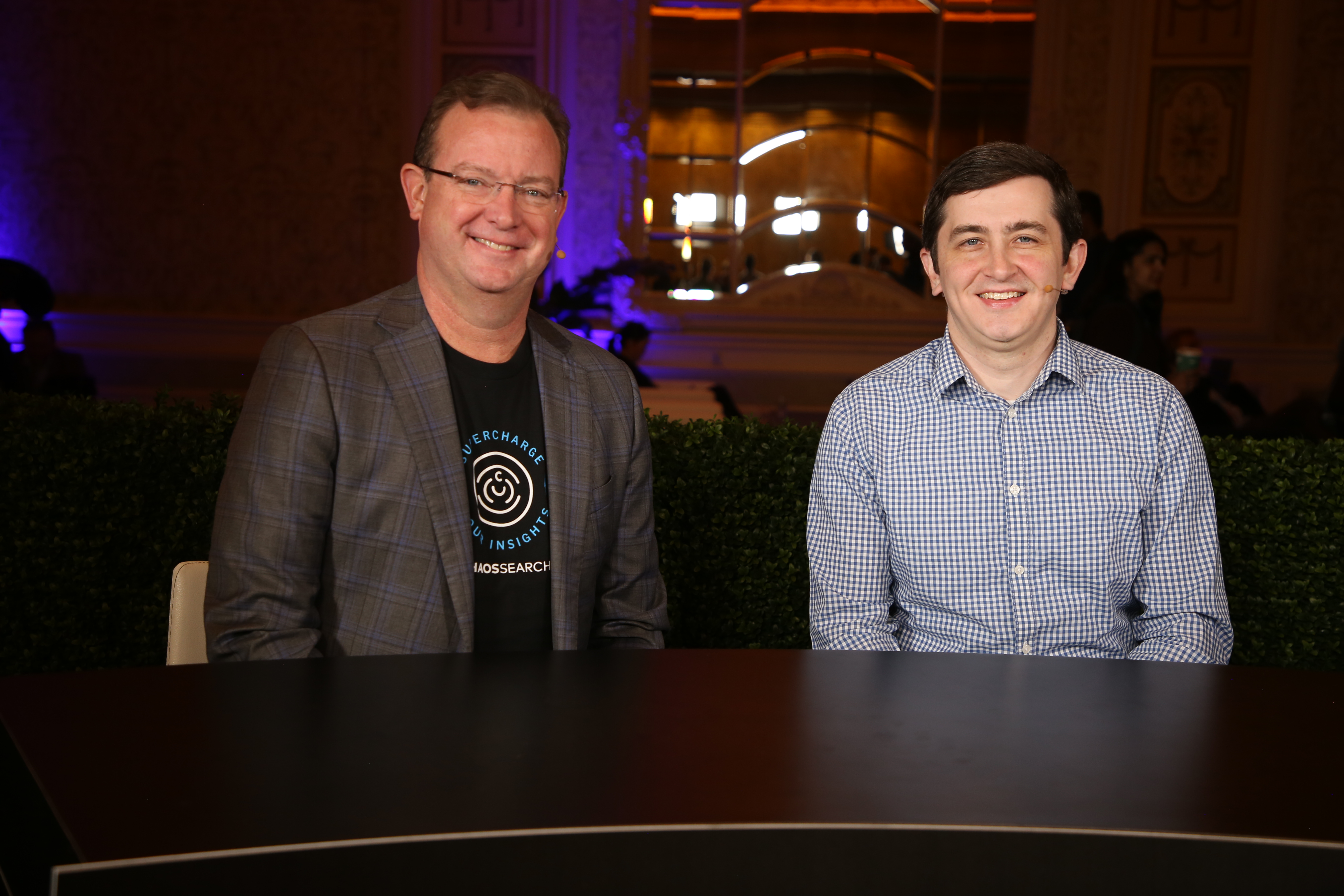 During AWS re:Invent 2022, Amazon Web Services Inc. made several new announcements that customers had requested for some time, including giving them cross-account access points for sharing data securely with other parts of the organization and Multi-Region Access Points failover controls.
With such innovations, the conversation has shifted toward enabling value from data analytics. For data analytics company ChaosSearch Inc., what's been key is building value on top of the underlying technology of AWS S3.
"Even this week, I get comments from my customers like, 'How did you do that?'" said Ed Walsh (pictured, left), chief executive officer of ChaosSearch, who noted that it has to do with what the company built on top of what was provided in AWS S3. "So it's really working out pretty well."
Walsh and Kevin Miller (pictured, right), vice president and general manager of S3 at AWS, spoke with theCUBE industry analyst Dave Vellante at AWS re:Invent, during an exclusive broadcast on theCUBE, SiliconANGLE Media's livestreaming studio. They discussed ChaosSearch innovations on top of AWS S3 and new trends in digital transformation. (* Disclosure below.)
Going all-in on S3
ChaosSearch has been moving forward with a big vision, knowing that it's difficult to solve the challenge of analytics at scale. The company is actually making S3 a database with no persistence outside of S3.
"We pick up all these attributes of scale and reliability, and it shows up in the client's environments," Walsh said. "So when you launch all these new things, we just see it."
As an example, one of ChaosSearch's biggest customers on Black Friday went from around 58 terabytes to 187 terabytes daily.
"We don't flinch. And they say, 'How do you do that?' Well, we built our platform on S3," Walsh said.
Of course, in today's environment, customers are often challenged and will ask how various products will help increase revenue or cut costs. The company is constantly paired up with larger firms like Datadog Inc. and Splunk Inc. while using ChaosSearch to help reduce costs, Walsh explained.
Taking Datadog as an example on observability, a user may use the service for its developers, site reliability engineers and managing environments — services that are very good at functioning as a monitoring alert.
"What they're not necessarily great at is keeping the data for longer periods, like the log data, the bigger data. That's where we're strong," Walsh said. "What they're able to do is just turn a knob, get more data. We do an integration. So you can go from Datadog or Grafana directly into our platform so the user doesn't see it, but they save money."
Moving forward in an unpredictable economy
The pandemic and worldwide shutdowns have upended the stock market, and it's unclear when things will fully resolve. While consumers are still spending, there's still a lot of uncertainty in the market, which has been considered when it comes to S3, according to Miller.
As far as business and digital transformation go, some customers appreciate that they no longer have to buy and commit capital for a large upfront expenditure.
"It's the value of being able to experiment and scale up and then, most importantly, scale down and dynamically based on: 'Is the experiment working out? Am I seeing real value from it?'" Miller said.
That's a process that is all the more important in today's context and has been considered in the evolution of S3.
"With S3 and storage from day one, we've been elastic. Pay for what you use," he said. "If you're not using the storage, you don't get charged for it. And I think that particularly right now, having the applications and the rest of the ecosystem around the storage and the data to be able to scale up and scale down is just ever more important."
That leads to a further increase in focus among consumers on cost and performance, which plays into what ChaosSearch is doing — building value on top of S3's innovation.
"Equifax is a good example. They're able to consolidate 12 divisions on one platform. We couldn't have done that without the scale and the performance of what we can get at S3," Walsh said. "But, also, they save 90%. I'm able to do that, but that's really because the only persistence is S3 and what you guys are delivering."
Here's the complete video interview, part of SiliconANGLE's and theCUBE's coverage of the AWS re:Invent 2022 Global Startup Program:
(* Disclosure: ChaosSearch Inc. sponsored this segment of theCUBE. Neither ChaosSearch Inc. nor other sponsors have editorial control over content on theCUBE or SiliconANGLE.)
Photo: SiliconANGLE
---
Show your support for our mission by joining our Cube Club and Cube Event Community of experts. Join the community that includes Amazon Web Services and Amazon.com CEO Andy Jassy, Dell Technologies founder and CEO Michael Dell, Intel CEO Pat Gelsinger and many more luminaries and experts.